On my latest "therapy" shopping binge... I bought a couple of cookie recipe books...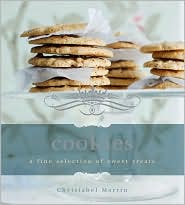 Indulgence Cookies - A Fine Selection of Sweet Treats
Cookies
(both from the bargain bin baby!)
After flipping through these, I settled upon yet another recipe for jam thumbprints, from the Indulgence Cookies book. (Anyone tired of these yet?)
Nothing TOO much different than the previous recipes I've tried, except the use of powdered sugar as opposed to regular sugar, and also the addition of lemon zest which I skipped on since I didn't have any on hand.
The cookie itself was more like a sugar cookie - so I've been told - than the previous. A bit more crisp too. But not hard. This one is a winner for sure.
I also used the Superfruit Jam I bought on my last grocery trip to Trader Joe's... hmm not much a fan... but with the cookie it actually doesn't matter.